How are your campaigns resonating with your target audience and influencing their behaviors? Are your initiatives helping you create a competitive advantage in your industry? Monitor and measure your TV investments in real time and activate digital campaigns when opportunities present themselves.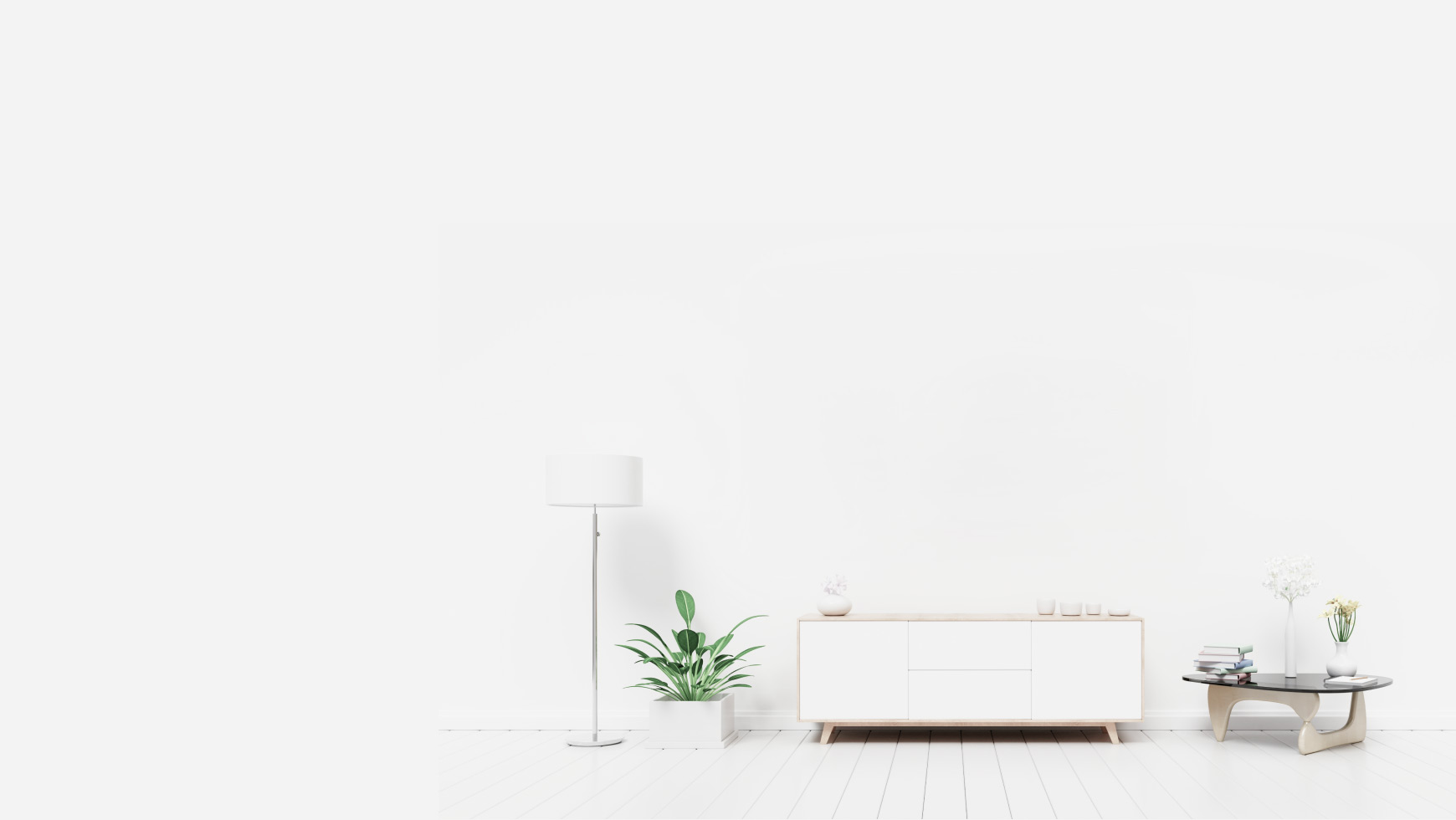 Capabilities
Ad Catalogue as a Service
Expanding global footprint ad catalogue currently available Canada (English & French), UK, Germany, France & Netherlands.
US ad detection across 1,600 channels in all 210 DMA's

32K brands tracked and 550K TV ads indexed

Ability to detect fingerprinted ads across 85 countries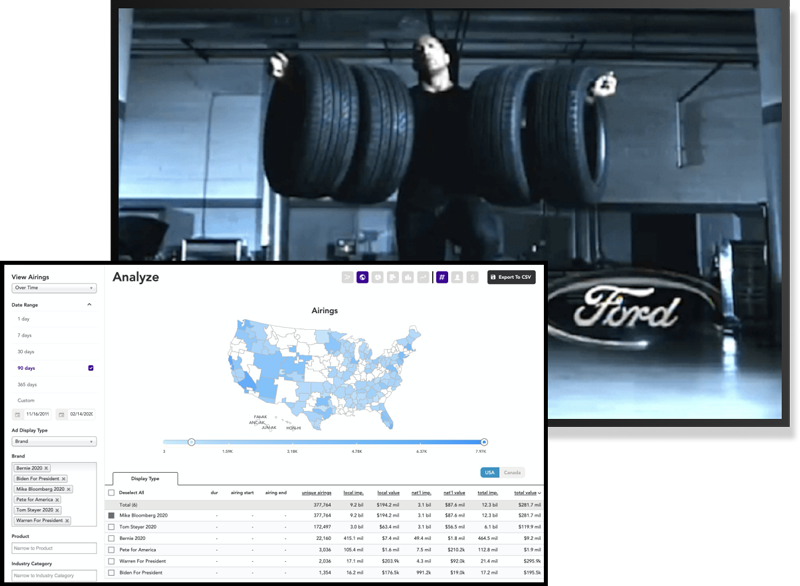 Attribute
Gain up-to-date insights into your TV presence and audience profiles, and link on-air activity to audience behaviors.
Capture second-by-second insights into TV brand instances with automated logo recognition and closed caption brand detection

Integrate with your data management platform (DMP) and first-party data to determine the effectiveness of your varying media tactics

Identify media exposure, channel and frequency by household

Leverage IP address identification to match TV engagement to specific audience behaviors — digital traffic, social engagement, purchase activity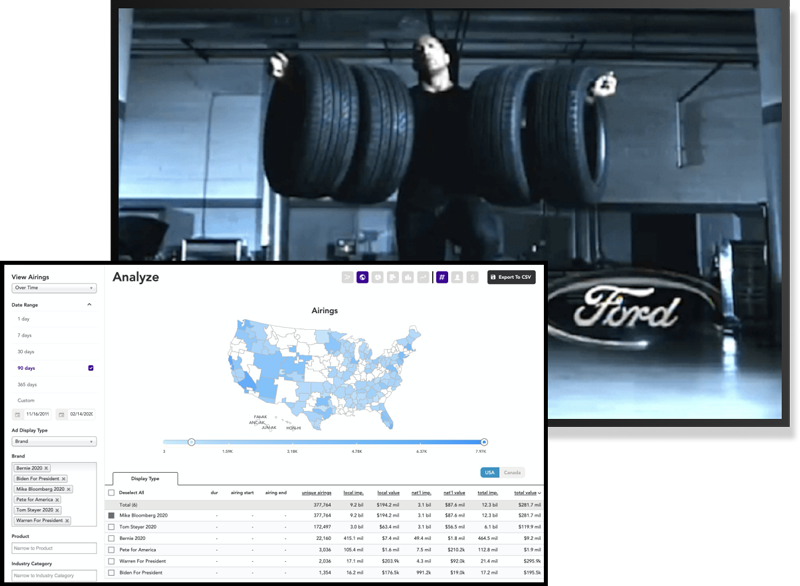 Compare
Correlate media and audience values to local and national campaigns, paid and earned exposure, or your all-encompassing TV exposure.
Pinpoint the value of your media exposure by campaign, initiative, media type, and even as granular as a specific brand mention on a specific network

Measure your TV ROI with access to a deeper and broader set of data — 10 million smart TVs across all 210 DMAs, 100 million digital signals, and Nielson and SQAD data

Better understand campaign performance and media investments across local and national markets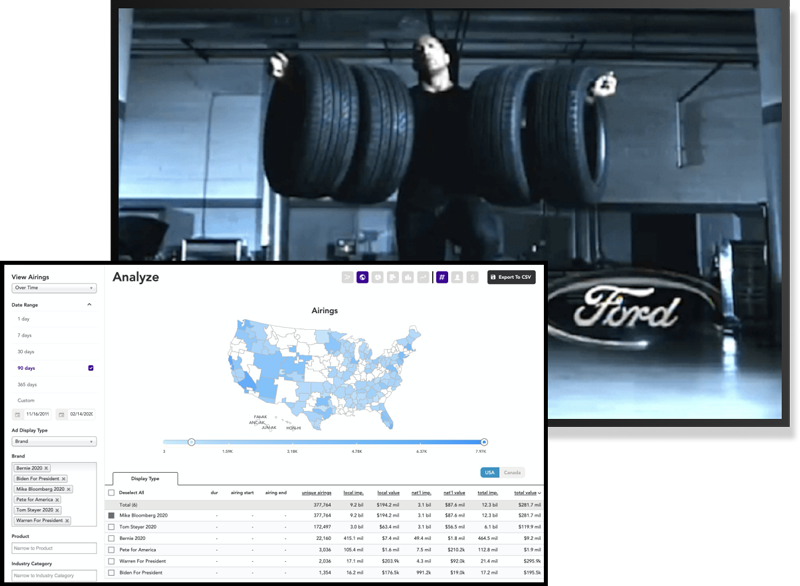 Compete
Assess your competitors' media strategies, audience engagement, and performance to plot more competitive campaigns.
Conduct competitive research with a comprehensive view of your competitors' media placements, campaign performance, market proliferation, and more

Perform ad hoc competitor searches to drill down into your specific competitive landscape

Plot your own campaigns against your competitors' current and historical efforts to track your relative performance

Identify your competitors' advertising tactics on a national or local level — in real time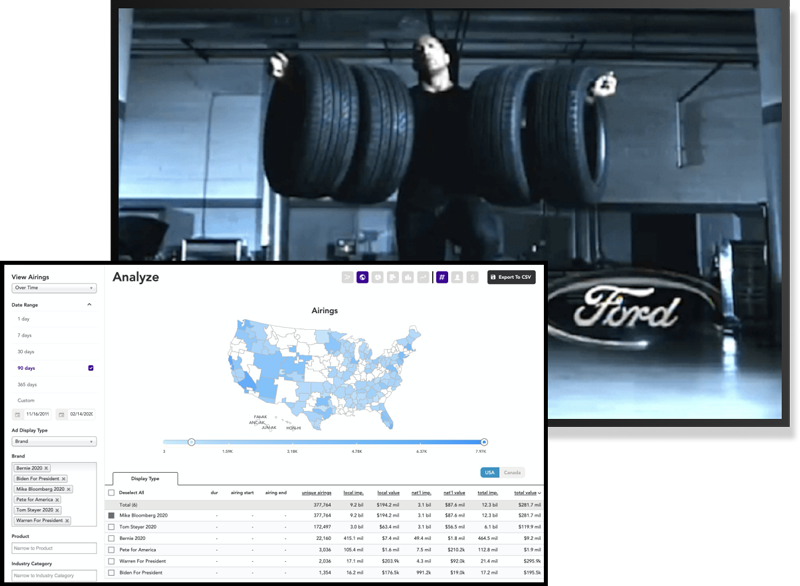 Optimize
Nimbly adjust your live and upcoming media plans to maximize your ROI and minimize media waste.
Immediately measure and evaluate the resonance, saturation, and effectiveness of your media investments with geo-based heat maps, side-by-side ad pod charts, and more

Combine real-time TV tracking with nearly a decade of historical programming data to inform pre-planning of annual and scatter media buys

Identify the audience traits that most signal a penchant to engage with your brand